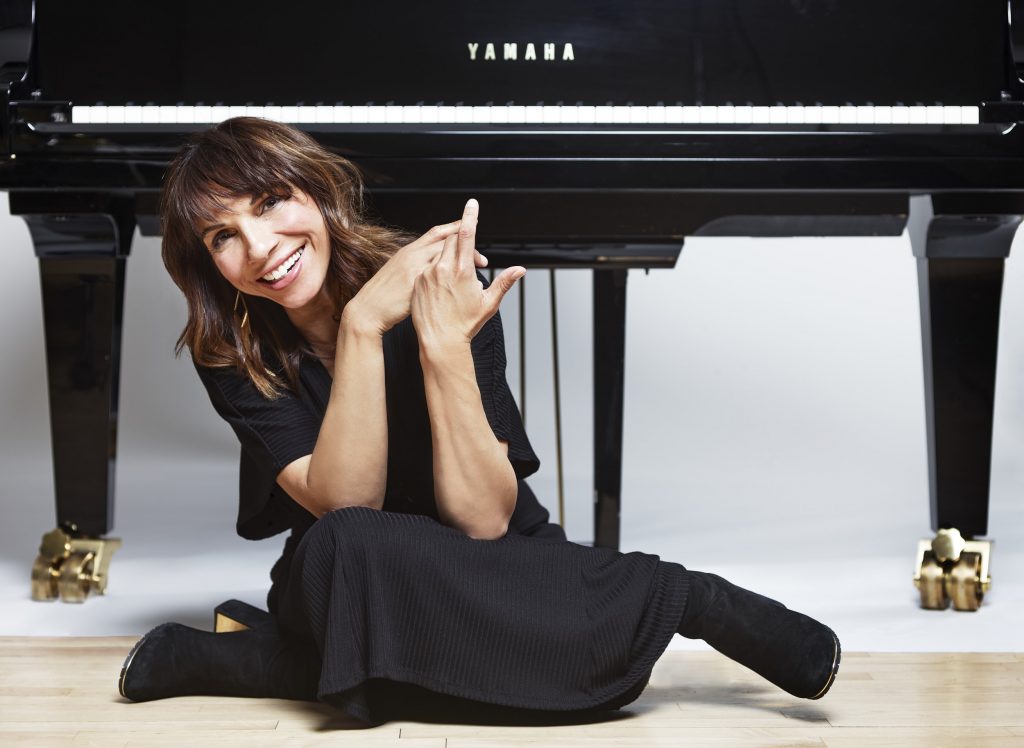 In "What I Love," inspiring women take us inside their world, work, and jewelry boxes
Lara Downes has always looked to the fringes for musical inspiration. After all, it's where the renowned pianist — once a home-schooled prodigy, now a genre-bending risk taker — feels most at home.
"Think about it — all the music you're practicing are white men!" Downes says of growing up with the classical canon. She'll never forget, as a young girl, discovering the music of Clara Schumann, one of the few female 19th-century composers to achieve acclaim during her lifetime. "It seemed impossible and heroic, everything she accomplished," says Downes, whose upcoming Sept. 13 album, For Love of You, marks the 200th anniversary of Clara's birth and pairs her works with those of her more celebrated husband, Robert Schumann. (Read more about the album in the New York Times.)
Downes has made a practice of marrying art with activism, championing works by women, minorities, and other great artists who seem to have been overlooked by history. Her last album, Holes in the Sky, is a constellation of female artists, while America Again, perhaps her most ambitious project, paid tribute to Langston Hughes.
Music has helped her start conversations around identity, says Downes, but it's also helped her work out her own. After America Again brought her to a public school classroom for a discussion about race and equality, "I walked out and my manager said, 'That was really good. Next time, you need to tell them you're black.' I thought, 'What are you talking about?!' But then I got it," says Downes, whose father is Jamaican and whose mother is of Eastern European Jewish descent. "The next time, I made my background clear, and the response was so much more intimate. That made me realize I have this big responsibility to be a role model for little brown kids, especially little brown girls. Because I never had anyone to look up to who looked like me."
Here, in the inaugural installment of our new column What I Love, Downes shares the inspirations behind her forthcoming album, the first piece of jewelry she's ever received, and what makes her feel confident on stage.
Birthstone: Diamond
My icons: Clara Schumann and Florence Price, the first African American female composer whose work was performed by a major orchestra. People who were able to do things out of the realm of possibility at the time are so important.
My musical beginnings: I started playing piano at 4. I have these fractured memories of sitting in my group piano class, and there was this boy who was being disruptive. I remember thinking, 'How could he be distracted? This is the best thing.' I was hooked from the beginning. There were fleeting moments when I wanted to be an actress, an archaeologist. But there was never a time when I didn't want to play piano.
"It spoke to me about what jewelry can represent for women, especially if you buy it for yourself for something that you're proud of."
My favorite Rive Gauche piece: Rive Gauche Jewelry 3.46 Carat Natural Fancy Color Diamond Ring. It's instinctive, dramatic, and bold. I like things that have this surprise element to them, and these colors are stunning. For a recent photo shoot at the piano, the pianist wore our estate Cartier Amethyst Tank Ring. 
What I wear to feel confident on stage: Very high heels. Your whole body feels different with heels on.
The first piece of jewelry I loved: I was 18 or 19 and on tour. At a Santa Fe street market, there was this bracelet. It was very abstract and more money than I I had. I asked the seller to hold it, and on my last day in town I went back and bought it — and I wore in on the cover of the first album I made. It spoke to me about what jewelry can represent for women, especially if you buy it for yourself for something that you're proud of. Then, when I made the America Again album in 2016, I didn't even think about it, but I put on that bracelet. I didn't realize until I saw the two covers side by side.
Why I bring music to schools across America: You go into the concert hall, and you're playing for music lovers. You go into the classroom, and you play for children who've never heard this before, which is life changing. Especially kids of color who have less access to the arts, the unheard voices. That's become very central — to be an example of what you can be if you work hard and listen to your inner voice.
On figuring out her identity as a black, American, European-raised woman: My identity when it came to race and family was always murky. In Europe, I was other just by virtue of being American, and when I came back to the States I realized that in America, in some eyes I was a person of color, and in others I wasn't. I felt this need to understand American culture. I wanted to understand for myself and disseminate my story. Music is where this dilemma becomes something beautiful.
My on-stage jewels: Often I wear big, flashy cheap stuff because I'm traveling and don't want to lose things. But my mother had this big heart [pendant] with little diamonds in it, and she took them apart and made some earrings for me. The design we created it I think of as holes in the sky — this little constellation of diamonds. So that will be an enduring piece for me.