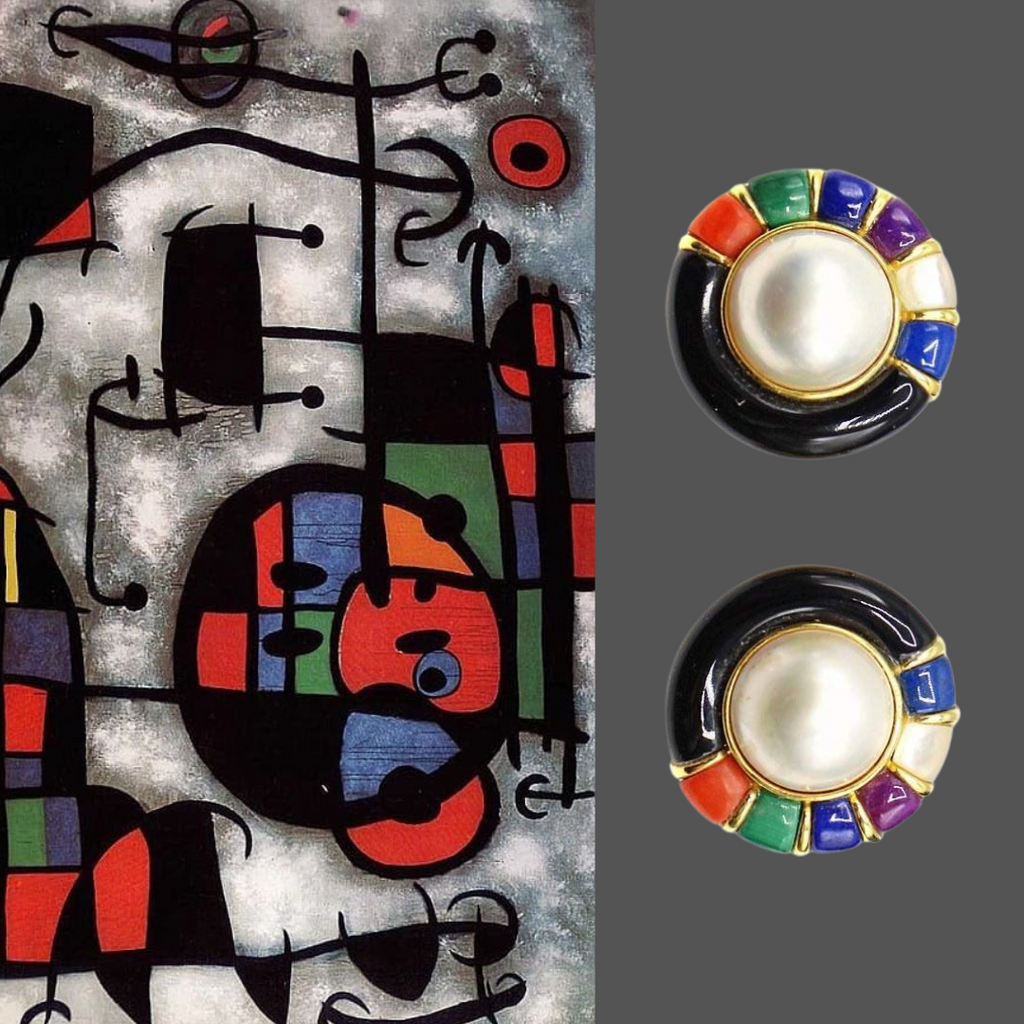 The Spanish artist Joan Miro', (1893-1983) rejected traditional paintings that were "conceived with fire in the soul but executed with clinical coolness," instead he used color like "words that shape poems." 
He was considered a leading Surrealist, even though he never became a part of the group that believed that one could express the true functioning of thought in the unconscious. He did pioneer automatism, which was a random drawing that tried to express human Psyche. Most of his drawings represented the mind and what the mind was thinking and how it was responding to those thoughts. Courtesy of http://www.Joan-Miro.net  https://www.joan-miro.net/the-skiing-lesson.jsp#prettyPhoto[image1]/0/    
The Skiing Lesson belongs to a series of condensed, narrative configurations for the 1960s. 
https://rive-gauche-jewelry.myshopify.com/admin/products/4629304803379
1960s Mabe Pearl Multi Stone Round Yellow Gold Ear Clips
These amazingly well hand-crafted 1960s ear clips were designed in a round form with a thin border of high polished gold. The center piece features a wonderful white lustrous mabe pearl, bezel set and is further surrounded by onyx, lapis lazuli, mother-of-pearl, coral, malachite and amethyst. Classic, chic and timeless would be the best description for this fun piece of jewelry. The ear-clips are stamped AG . The pearls are roughly 15 mm in diameter. A fun and comfortable every-day wear.
Diameter 1.125 Inch, Weight 25.19 Grams
Similarly, to Miro's painting of the 1960ies, the earrings from the same time period feature color and shapes that have their starting point in a center – mabe pearl – and relate to the painting's use of black, as separating/unifying space and colors, as far as their intensity is concerned.  The symmetrical correspondences between the colorful areas, the contrapuntal relationships between light and dark, hot and cold as well as the contrasts of quantity and quality make this painting – and the earrings - a masterpiece of bold color and a signature piece of their time.