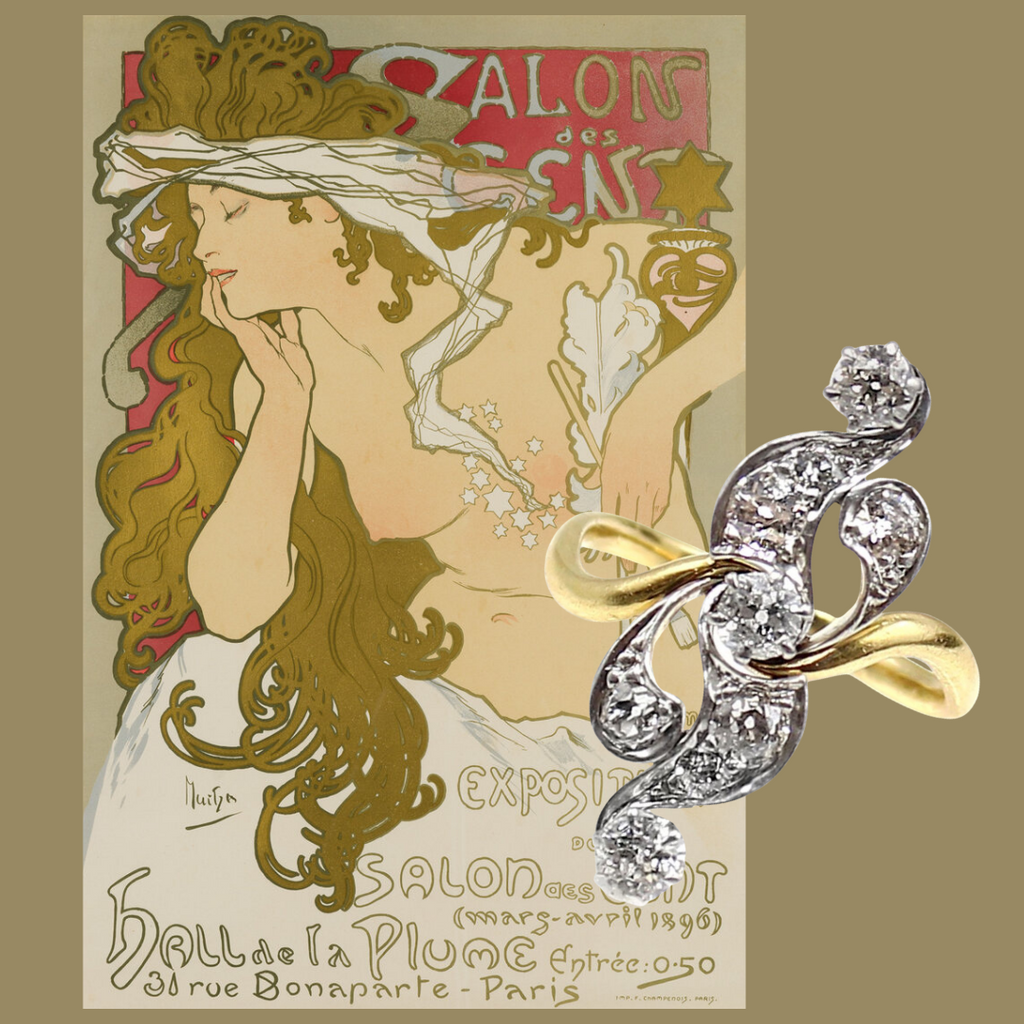 The so called "golden age" of the French Belle Époque (1890-1914) describes a historic period with Paris as its cultural epicenter, extending across Europe. New technologies going hand in hand with economic growth and prosperity, reflected throughout diverse artistic movements. The jewelry periods of the Belle Époque also encompass the varied styles of Art Nouveau, the Arts and Crafts movement, and the Edwardian period.   
For the World's Fair in Paris in 1900, the Czech-born Alphonse Mucha, whose large posters came to epitomize the very embodiment of the Art Nouveau movement, designed the Bosnia-Hercegovina Pavilion. He partnered with the goldsmith Georges Fouquet to create jewelry based on his designs, including his famed "Salon des cents," He also published Documents Decoratifs, a visual statement of his artistic theories. https://www.windsorfineart.com/la-belle-epoque#/mucha The portfolio contains 72 plates and was used for years by many art schools as a textbook, influencing a whole generation of artists.
Belle-Époque Diamond Scroll Ring https://rivegauchejewelry.com/collections/vintage-and-antique/products/belle-epoque-diamond-platinum-on-gold-scroll-ring
This platinum diamond scroll ring form ca. 1890, is a great example of the masterful craftmanship, of its time.
7 bright Old European cut diamonds are set in platinum, while the gallery and shank are worked in 18 karat yellow gold.
With the middle-class flourishing, a forward-looking optimism coined as "joie de vivre," also gave rise to a mighty consumerism and its own stars and tastemakers.
With the emerging of the movie industry, its stars, instead of European royalty, became trendsetters in American culture and with an eye on Hollywood, America appeared on the global influencer screen.